Standard
Systems: Understand that we live and work within systems of cause and effect in which actions may have multiple origins and consequences.
Artifact Context
Spring 2009 EDTEC 795A Seminar
Mathematics Curriculum Recommendation
Individual Project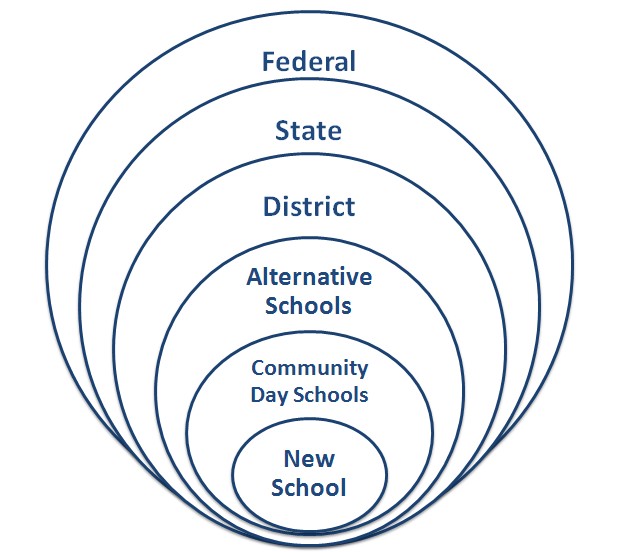 I completed a semester-long project, working in the role as educational consultant, at my school site. New School, a Community Day High School located in Watsonville, California, is in the process of redefining its goals for students. The school operates under the alternative school umbrella in the Pajaro Valley Unified School District. In December 2008, the school's principal and district supervisor retired. The change in key administrative staff spurred an examination of the school's academic structure. The results of my analysis resulted in a report that formed the basis of specific curricular and pedagogical recommendations for New School.
Link to Standard
I learned that my school is part of a complex system in my quest to recommend math curriculum for New School students. A complex system is defined as, "...any system featuring a large number of interacting components (agents, processes, etc.) whose aggregate activity is nonlinear (not derivable from the summations of the activity of individual components) and typically exhibits hierarchical self-organization under selective pressures" (Rocha, 1999). The entities of the school's system, which I encountered in the development of my project, are listed in the chart below.

System Objective
Provide Educational Services for students in grades K-12.
This project required me to step up to the balcony to cast a wide view across many systems. My recommendations in this work would be viable only if I understood how the school fit into a bigger picture. I began this project with a general awareness of my state's and the federal accountability structures for schools. I was unfamiliar with the district's expectations and the programmatic elements of the Community School designation. After three, solid months of research, I gained a substantial amount of knowledge about the system. It is important to note that I require further research to fully grasp the cause and effect relationships among and between the complex system entities.
My description of the system will start at the micro-level, the school. The district, and state in respect to the Community Day School (CDS) designation, categorizes New School as a both an Alternative School and a CDS. The school is expected to perform the functions of an alternative high school, that is to provide students who are assigned or enroll on their own a school that has a different "feel' than a traditional high school. The CDS designation adds an extra layer of support. It is a designation for schools containing "high-risk" students whose socio-emotional issues that will overshadow academic success without intensive support. When I began the project, I assumed that my recommendations would be limited by a district or state approved materials list. This was an impediment to recommending a curriculum for students who speak little English and whose math skills are far behind their grade level. It was liberating to discover that because the school is a CDS, it has the flexibility to implement instructional materials the school deems appropriate. This had a huge impact on my work. I could recommend any math curricular elements that aligned to the criteria revealed in my analysis.

My investigative efforts moved into funding issues. Traditional and alternative schools' funding is based on Average Daily Attendance. Traditional schools offer (about) a seven-hour school day in the district. Alternative students attend about five hours. I wondered if New School could shorten its school day as well. Perhaps creative scheduling of core classes would promote student achievement. As I researched the funding nuances under CDS regulations I found two, key pieces of information. First, CDS funding is based on a 360 minute day. Students who attend less than 360 minutes do not bring in a single penny of funding to the school. Considering the truancy rates of high-risk students, this posed a challenge for the school. To achieve full funding each year, truancy rates must be significantly reduced. The second funding discovery was better news. A CDS operates like a small business. It contracts the district for services (staffing, lunches, etc.) and spends its money, as it deems necessary.

After learning that the school could purchase instructional resources without approval from a district staff member, I next explored the effect of No Child Left Behind (NCLB) on the school. My analysis revealed that the school failed to make Adequate Yearly Progress (AYP) for several years. One hundred percent of the students also fell into the "below basic" category on the state's standardized tests for the past three years. Could the school be sanctioned for failing to make AYP? Could the sanctions override the school's curricular selections? I was unable to draw any conclusions on my own. I met with my principal and learned that a CDS is not subject to sanctions under the law. This was another piece of good news for the school. A well-informed curriculum recommendation could not be reversed due to student's standardized test performance.
| | | |
| --- | --- | --- |
| System Entity | Boundary | Components |
| New School | The school's front gate | Administration, Faculty, Staff, Students, Parents, and Community Partners |
| Alternative Schools | Santa Cruz County Office of Education (SCCOE) | District Office, Board of Trustees, Alternative Schools Advisory Panel, Alternative School Faculties, Administrations, and Staff |
| District office | District office front doors | SCCOE, District Personnel, Parents, Students, Teachers, Administrators, Classified Staff, Numerous School Support Offices (IT, Maintenance, Transportation, etc.) |
| California Department of Education (CDE) | State of California's geographic boundary | Lobbyists, Legislators, Staff |
| Community Day School, CDE Specialized Program | CDE's front door | Program Officials |
| No Child Left Behind | Federal jurisdiction | Legislators, Lobbyists, Testing Companies, and Stakeholders at the Regional, County, District, School, and Community Partner Level |
Challenges and Opportunities
I began this project with the expectation of being constrained the complexity of the system itself. I was unsure if I would be able to untangle the components that overlapped to truly understand their affect on a very specific element, curriculum. It took a bit of persistence and a lot of questioning to get to my current understanding. This project was an excellent opportunity to practice as an educational consultant. Outside my studies, I will surely encounter systems that are unfamiliar. I also practiced liaising with individuals who are work in separate entities within a system. Being able to read for understanding, connect the dots, and direct questions to the appropriate person are skills that I will undoubtedly draw on in the future.
Professional and Personal Growth
I am especially proud of my work in this project. I feel that I grew tremendously as an instructional designer and technologist in the development of the recommendation. This work taught me that I posses the analytical and people-skills that lend well to this sort of work. I gained confidence in my skills, and am comfortable participating in challenging projects that cross boundaries within complex systems.
References
Based on Rocha, Luis M. [1999]. BITS: Computer and Communications News. Computing, Information, and Communications Division. Retrieved on July 10, 2009 from http://informatics.indiana.edu/rocha/complex/csm.html.

Flake, G.W., (2000). The Computational Beauty of Nature: Computer Explorations of Fractals, Chaos, Complex Systems, and Adaptation. Retrieved on July 10, 2009 from http://mitpress.mit.edu/books/FLAOH/cbnhtml/glossary-C.html#complex_system