Standard
Interpersonal: Interact effectively with others as peers, subordinates and leaders to accomplish goals.
Artifact Context
Fall 2008 EDTEC 690 Methods of Inquiry
Case Study: Digital Media in the Content-Area Classroom: Effect on Language Acquisition Among English Language Learners
Group Project
I was elected group leader for the research project I completed with my classmates, Misty Burnworth, Joel Rodriguez, and Craig Wilsie. Craig set up a wiki and I populated it with pages designed to house different aspects of the project and provide reference materials for writing the research paper. I wrote the Literature Review section and compiled the report an presentation from individual contributions as well.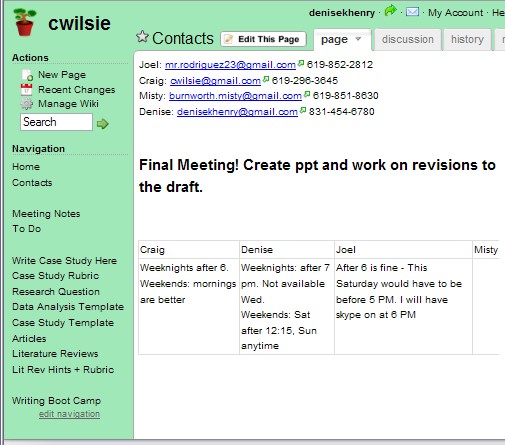 Link to Standard
In this project, my working role with classmates shifted from peer to leader. Since we were working at a distance, I felt that effective communication was key to our success. It is easy to feel out of touch with a project's progress when working at a distance. We used a tool that was familiar to all group members to keep everyone on the same (virtual) page. Craig established a wikispace then I populated it with asynchronous elements to enhance our productivity. Synchronous communication was established through Skype for group meetings and Google Chat instant messages for a quick check-in. I coordinated group meetings and posted meeting notes on the wiki. I also added job aids to support the mechanics of the report.
Challenges and Opportunities
The course in which we completed this project was held about halfway through the COMET program. I had established a relationship with Misty, communicating with her often to discuss class work. My communication with Joel and Craig was limited to class discussion. I identified the first task in my role as group leader as facilitating my and my group mates mental shift from Denise as classmate to Denise as project leader. I'm not sure exactly why the transition of roles proved to be effortless on my part. Perhaps this was an easy transition because my peers asked me to be the project leader. It was relatively easy for me to make the mental shift as well. I am the person who "plans for the plan" and am comfortable in leadership roles. I thoroughly reviewed Dr. Wang's course web site. This helped me to be a resource for my group mates; I was able to quickly answer questions and clarify project expectations.

My goal for the project communication structure was to listen to my group mate's expressed need and then create a communication tool to support their work. I also anticipated needs based on our discussions of the project and questions group members posed. I used active listening skills, questioning for clarification and paraphrasing, to be sure that my understanding was correct. I felt that a democratic approach to developing our work environment provided all group members with a sense of ownership in the decision-making process. If I assumed I understood the group member's perspective, I would risk becoming an overbearing, presumptuous project leader.

The first challenge was organizing each group member's contribution to the final product. We were a group of novice researchers tasked with delivering a semester-long case study and research report. The group needed to begin work immediately. I was concerned that we would overlook required components of the project due to our lack of prior knowledge in this type of work. One of our group members took the initiative to create a project management tool, a Wikispace page. Craig set up the wiki and I populated it with elements to manage communication and the project's tasks. The wiki served as an effective asynchronous communication tool. For example, we were able to determine group meeting dates by posting our availability on the wiki rather than engaging in lengthy email threads.

I used active listening skills during our meetings. When confusion arose about research processes and the development of the final report, I added job aids to the wiki. The reference materials assisted the group in maintaining adherence to the project's requirements. Rather than criticize a group member's lack of knowledge, I steered him toward a job aid. My non-aggressive, open communication style promoted a friendly working environment that focused on group member's strengths rather than deficiencies.

It would have been easy for the project to lag and for the group to lose sight of our goals had I not been proactive in my role as group leader. Morale sagged at one point midway through the project when a member missed a couple of meetings and did not reply to emails. As the group pressed forward, I began to send reminder emails to everyone about upcoming meetings. This prompted communication to the group by the member who had missed meetings, which eased anxiety about his commitment to the project. I feel that I supported the project's workflow by developing an effective asynchronous and communication structure (the wiki) and facilitating communication among members. In the end, we successfully transitioned from four, geographically separate individuals into a research team whose members who were able to work closely to achieve a common goal.
Professional and Personal Growth
This work demonstrates my capability to transition into the role of leader with individuals who are my peers. I am sensitive to group member's needs and can fill the role as leader without becoming an overbearing autocrat. I am developing the ability to recognize individual's strengths and facilitate the effective application of skills and knowledge to complete tasks. Craig and Misty continued to use me as a resource to answer questions and clarify assignment criteria in subsequent COMET courses. Craig once commented that he thought I was much older because I am "so responsible".
Since this project, I've become comfortable in informal and formal leadership roles, both locally and in state-wide collaborations. I'm learning how to facilitate effective horizontal and vertical working relationships and manage projects in face-to-face and virtual environments. Educational technologists can shift roles from peer to leader depending on the nature of the work at hand. The refinement of leadership skills will allow me to be a more limber Instructional Design professional who is able to understand or assume a variety of roles particular to a given task or project.