T
his area of the site represents my experiences
in San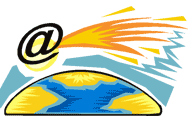 Diego State University's Cohort Online Masters of Educational Technology (
COMET
) program.
I entered the program thinking that I would learn about technology use in my classroom but ended up learning how to be an instructional designer. I learned how to use different types of analyses to sort through challenges and seize opportunities. I built on my undergraduate knowledge of cognitive science, revisiting theories and learning about new ones. Of course, there were tons of gadgets, web 2.0 applications, and hundreds of virtual meetings along the way.

Most importantly, instead of learning how to write lesson plans requiring students to create a slide presentation, I learned to use technology like a pen in my backpack. Technology became one of many tools at my disposal. Last, certainly not least, I learned how to use data to evaluate everything I do, at every step of the way.

The COMET program transformed me from a tech-savvy teacher into a self-correcting instructional design professional. I feel confident in my ability to design, develop, and evaluate all aspects of the instructional design process. My skills as an instructor have increased tremendously as well, especially in the areas of accessing prior knowledge, providing valuable feedback to learners based on formative/summative assessments, and differentiating instruction.