Standard
Cognitive: Analyze, synthesize, use inductive and deductive reasoning, to solve problems effectively and creatively.
Artifact Context
EDTEC 570 Advanced Teaching with Technology
Recycling Unit Web Quest
http://sites.google.com/site/earthdaywebquest/
Group Project

I worked with "The Green Ladies", Misty Burnworth, Lori Cummings, and Jenni Topmiller, to create a web quest aimed at 5th grade students. We collaborated virtually to develop the web quest and an implementation guide containing extensive resources for instructors.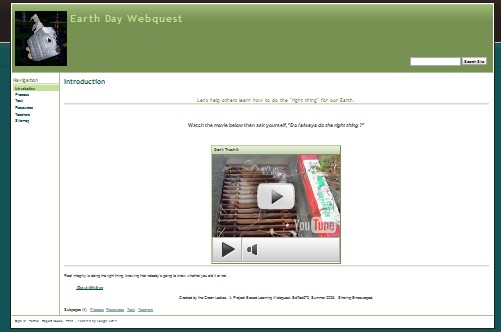 Link to Standard
Web quests are a form of self-directed learning wrapped in a problem-based learning context. Design required us to step into the learner's and instructor's shoes to ensure the inclusion of sufficient support materials for task completion. Deductive reasoning was used to designed teacher and learner resources. Inductive reasoning was used to a lesser degree, in the process of correlating of state standards and learning outcomes to the project's tasks and deliverables.
Challenges and Opportunities
I discovered and implemented web quests about six years ago with my middle school math students. Imagine my excitement when I learned that I would I would be guided throughout the creation of a web quest by the institution who pioneered this form of instructional delivery. I viewed this as an opportunity to learn from the "pros". Throughout the project I consciously reminded myself to think back to my implementation as an instructor of students whose conceptual and and problem-solving skills are below grade level. I was also cognizant of the leg work required as an instructor to gain a complete understanding of the problem my student would soon work through. The results of this type of thinking led to the development of a web quest that supports the both the learner and instructor.

It was a challenge to develop comprehensive support materials. The web quest's tasks require the learner to use high-level cognitive processes:
Evaluating information for relevance
Reading for understanding then writing notes in a research journal
Synthesizing information to create a presentation of findings
Self-directed student work requires scaffolding. The challenge lies in striking a balance between providing scaffolds that are "just right" for a population representing mixed abilities and prior knowledge. Students aren't challenged to solve problems on their own if every step is supported. Conversely, students become frustrated if they aren't provided sufficient learning support, especially students with low sill levels. Designing to support learning in the Zone of Proximal Development can be a slippery slope, indeed. As the design team hypothesized about resource development, we constantly asked each other, "would a 5th grader know how to do this without guidance?" The result is a web quest that not only directs the learner "what to do", but guides the "how to do it".

Designing and developing to support the instructor felt less challenging, perhaps because the team was composed of teachers. We imagined that we were standing in the classroom then inferred implementation resources to develop. The resulting teacher resource web site makes it possible for both beginning and experienced teachers to implement the web quest. In addition to standard teacher supports such as rubrics, we added information about conservation, content standards, strategies to guide the research process, and a graphical project time line.

Working with a group of teachers developed a deeper understanding of the types of learning supports required to successfully complete and implement a web quest. The experience of creating a web quest developed my speculative thinking skills. Next year I will begin the design and development of courses at my school that I may not implement. I will draw on the work processes my team employed as I move into instructional design roles at my school site.
Professional and Personal Growth
This project demonstrates my ability to use inductive reasoning to develop a problem-based learning unit. Educational technologists may design and develop learning products for individuals with whom they have no direct contact. The ability to deduce the learners' and implementers' needs is crucial to the success of the product. Leaving out resources or failing to scaffold instruction causes the experience to frustrate teachers and students, stalling learning. Designing and developing instructional packages that include resource materials for teacher and learners is necessary. Beginning teachers or teachers who are instructing courses out of their credential area often require extra resources to mitigate their lack of subject-specific knowledge. Delivering comprehensive learning products increases their value, provides a rich learning experience, and promotes my reputation as an instructional designer.
References
The Buck Institute for Education. (2003). Project based learning: A guide to standards-focused project based learning for middle and high school teachers (2nd, Ed.). Oakland, CA: Wilsted & Taylor

Mace, K. (2005). Vygotsky's social development theory. In B. Hoffman (Ed.), Encyclopedia of Educational Technology. Retrieved July 6, 2009, from http://edweb.sdsu.edu/eet/articles/sdtheory/start.htm